7 proven tips to help you plan a vacation on a budget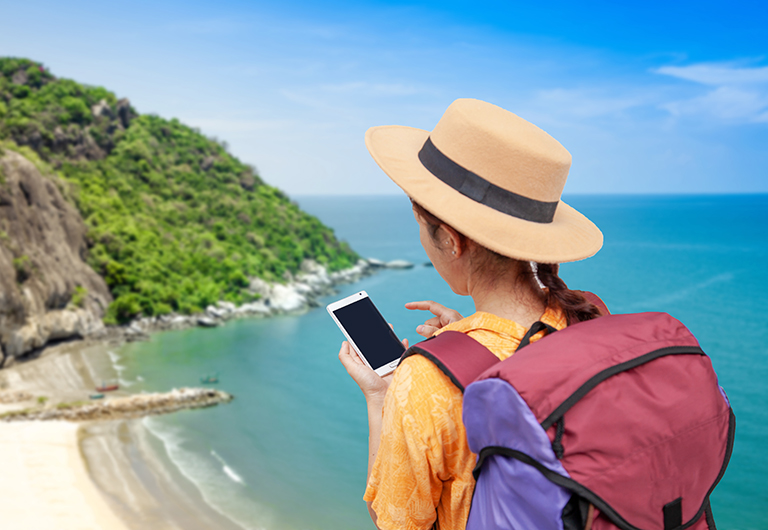 Looking for budget-friendly ways to plan your next vacation? With the right strategy, you can explore new cultures and make unforgettable memories. All without breaking the bank.
Traveling can be expensive, but with these seven tips, and using rewards with LifePoints, you'll experience the world while saving money. By having a budget, researching your options and earning extra cash with LifePoints, your planning will be a breeze.
Here are seven proven tips to help you plan a budget-friendly vacation:
Set a budget and stick to it
Earn extra cash before you go
Plan ahead to score deals
Look for budget-friendly destinations
Pack smart to avoid extra fees
Eat like a local to save money
Use other resources made for your vacation type
Read on to see how you can save.
Tip 1: Set a vacation budget and stick to it
The first step to planning a budget-friendly vacation is setting a realistic budget. Determine how much you can comfortably spend on your trip and allocate money to transport, hotels, food and activities. When you have a budget in place, you'll be less likely to overspend and can make informed decisions about where to stay, what to do and where to eat. And maybe even have some vacation budget left over for a little treat.
Tip 2: Boost your vacation budget by earning extra cash before you go
There are several ways to boost your budget before you leave for your trip. Consider selling items you don't need, selling photos online or picking up freelance work. With platforms like LifePoints, you get paid for sharing your opinions in surveys. You earn points for each survey you take, which can be redeemed for rewards like PayPal cash or Amazon gift cards.
Tip 3: Plan ahead for the cheapest ways to travel
Research and planning ahead can help you score great deals on your travel expenses. Airlines and hotels often offer discounts when you book in advance, so planning ahead can save you a lot. Sites like Google Flights, Google Maps and Booking.com can help you easily find the best deals.
Tip 4: Look for budget-friendly vacation destinations
If you're flexible with your travel plans, consider visiting budget-friendly destinations. Cheaper options can often be better places to visit, as popular destinations can be overpriced. Look for off-the-beaten-path locations or consider traveling off-peak when prices are lower.
Sites like Kayak and Skyscanner can help you find affordable destinations that fit your budget.
Tip 5: Pack smart to avoid extra travel fees
One of the most unexpected expenses when traveling is overweight luggage fees. To avoid fees, pack lightly and check with your airline to see the weight limit. If you bring snacks and a reusable water bottle, you can save those extra dollars on food and drinks at the airport too.
Tip 6: Eat like a local to save money when travelling
Trying local food and drink is a fun way to connect with a new culture and save money. Authentic street food is often the cheapest and most delicious way to eat while traveling. Find local markets or street vendors and avoid expensive tourist traps. Asking locals where to eat can also help you unearth some very tasty hidden gems.
Tip 7: Use other resources made for your vacation type
There are useful resources out there to help you find deals and hacks for your dream destination. For example, if you're going to Disney World, check out Disney blog and social media pages. These resources can be invaluable when planning a budget vacation.
Your other travel questions answered
What's the cheapest way to travel?
The cheapest way to travel will depend on where you're going. Sometimes the bus will be the cheapest, sometimes it's a train and other times flying will be the cheapest. Make sure you research all your options to find the cheapest and most convenient way to travel.
When is the cheapest time to book a flight?
The Airlines Reporting Corporation (ARC) found you can save about 6% on flights if you book them six to eight weeks before you fly. This isn't guaranteed as flights can fill up and prices fluctuate, so if you find a price you're happy with, it might be worth booking it.
What is the cheapest day to fly?
The cheapest day to fly can depend on where you're flying. Nerdwallet found that domestically, the cheapest days to fly are Tuesdays or Wednesdays. If you're flying internationally, the cheapest days to fly are Wednesdays or Thursdays.
What is domestic travel?
Domestic travel is when you travel within the US. For example, someone who lives in Boston and travels to Florida is traveling domestically.
Where can I travel without a passport?
As an American citizen, you can travel to these countries without a passport:
Mexico
Canada
US Virgin Islands
Puerto Rico
American Samoa
Guam
Northern Mariana Islands
Countries on certain cruises
Anywhere domestically in the US
You can travel to these countries without a passport, but they all have different entry standards. For example, Canada has the NEXUS program, so make sure you check the requirements before you go.
Sign up to LifePoints to help you travel the world for cheap
You get paid to take surveys with LifePoints. For each survey you take, you get points, also known as LifePoints, which you can swap for rewards. For instance, Amazon gift cards or a PayPal balance transfer. PayPal works like cash and Amazon sells anything you could think of, making them ideal for planning and vacation on a budget. Read our How It Works page to find out how easy it is to get started.
As well as bolstering your vacation budget, you have your voice heard with LifePoints. You get to say exactly what you think about some of the most famous brands, and that feedback is shared directly with people at those companies. To see how your opinion makes a difference, read our how surveys make an impact blog.
Sign up today or download the app and you can get 10 free points to kick-start your earnings.
---