The Great American Bucket List: Ideas to Add to Your List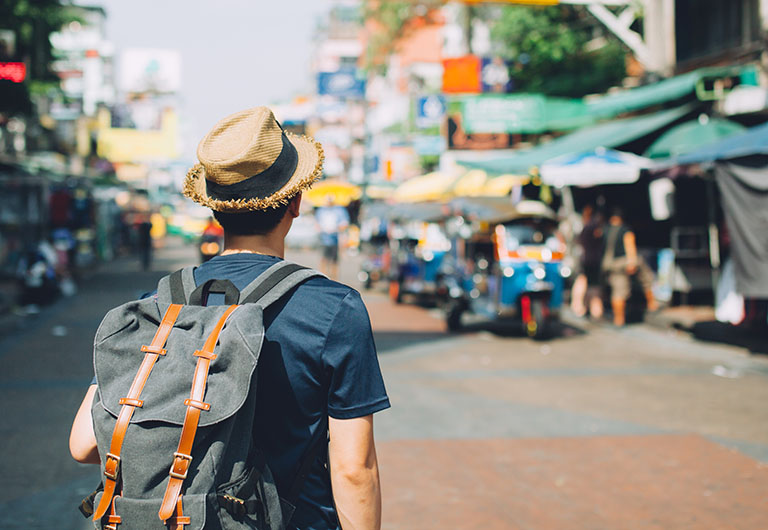 Building your bucket list and need ideas? Look no further!

In this guide, you'll see a bucket-load of bucket list ideas, and all of them are items that a lot of people have on their lists. What's more, you'll learn how LifePoints can help you save on travel expenses. From crossing the Golden Gate Bridge to escaping to Key West, you'll be ready to embark on your bucket list travel adventures once you're done reading.
Do you agree with our top American bucket list ideas?
Exploring national parks
Driving down the Pacific Coast
Experiencing the magic of New York City
Cruise down the Mighty Mississippi
Crossing the Golden Gate Bridge
Embracing the Wild West in Wyoming
Escaping to the Florida Keys
Driving down Route 66
Stargazing
Visiting American landmarks
1. Add exploring National Parks to your bucket list
Exploring the outdoors is a bucket list must. America is home to the most breathtaking scenery in the world. From the peaceful Everglades to the depths of the Grand Canyon, national parks offer a unique and soul-stirring experience. Whether you're an adventure seeker, a nature lover or a photography enthusiast, the beauty of nature will leave you awe-inspired.
Our picks for the top 10 national parks are:
Yellowstone National Park (Wyoming, Montana, Idaho) to see Old Faithful, Hot Springs and diverse wildlife
Grand Canyon National Park (Arizona) to see the vast canyon carved by the Colorado River
Yosemite National Park (California) for its iconic waterfalls, giant sequoias and granite cliffs
Zion National Park (Utah) to see towering red cliffs and narrow canyons
Acadia National Park (Maine) to see coastlines, lush forests and scenic vistas
Rocky Mountain National Park (Colorado) to see majestic mountain scenery, alpine lakes and abundant wildlife
Great Smoky Mountains National Park (North Carolinas, Tennessee) to see historical structures and rich plant life. It's the most visited National Park
Bryce Canyon National Park (Utah) to see the Hoodoo rock formations and take in a sunset
Everglades National Park (Florida) to see a truly unique ecosystem, wetlands and some gators
Glacier National Park(Montana) to see glacial landscapes, pristine lakes and incredible wildlife
2. Discover the Pacific Coast's Treasures
Add a Pacific Coast Highway road trip to your summer bucket list for a mesmerizing journey hugging the Cali coastline. The legendary 655-mile stretch leads through Big Sur, where the Santa Lucia Mountains meet the azure Pacific. Explore charming coastal towns, sample fresh seafood and observe marine wildlife like sea otters.
A road trip along the Pacific Coast is more than a scenic drive. It's a trip of a lifetime that connects you with the beauty of nature and leaves you with lasting memories. Whether you embark on this adventure by yourself, with friends or with family, it's an experience that you'll cherish.
3. Add some magic to your bucket list and visit New York City
Make sure that experiencing the magic of New York City is at the top of your ultimate bucket list ideas. The vibrant "Big Apple" offers an enchanting blend of culture, history, and excitement. There's never a dull moment, making it a true bucket-list-worthy experience. From the soaring skyscrapers like the Empire State Building to the electrifying atmosphere of Times Square, New York City is a must.
Indulge in diverse foods, stroll through Central Park and visit world-renowned museums like the Met and MoMA. Every moment will be an opportunity to make memories and cross things off your bucket list. So, let the allure of the bright lights draw you in and immerse yourself in its culture, architecture and vibrant energy.
4. Cruise down the Mighty Mississippi
Set sail on a bucket-list-worthy adventure and cruise down the legendary Mississippi River. You'll see history, culture and beautiful landscapes from the comfort of a boat. You'll experience so much, from the bustling streets of New Orleans to the quaint charm of small towns like Natchez. Each port of call offers stories, traditions and local flavors to try.
5. Cross the Golden Gate Bridge
Crossing the Golden Gate Bridge in San Francisco is a must-add to any bucket list. The iconic red-orange suspension bridge is a symbol of architecture and engineering brilliance. Whether you walk or bike across, the views of San Francisco's skyline and the Bay will leave a lasting impression. The cool breeze and the hum of traffic below add to the experience, creating a memorable adventure.
6. Embrace the Wild West in Wyoming
Embracing the Wild West belongs at the top of your bucket list, and Wyoming offers an unparalleled opportunity to do it. Immerse yourself in rich cowboy culture as you explore the vibrant towns of Jackson Hole and Cody. From rugged landscapes to deep-rooted traditions, Wyoming captures a level of adventure few other places give you. While in Wyoming, check out Yellowstone to cross another item off your bucket list adventures.
7. Escape to the Florida Keys
Add something to your bucket list to help rejuvenate your senses. Imagine crystal-clear waters, the gentle sway of palm trees, and the soothing sound of waves. The Florida Keys are a paradise where you can escape the hustle and bustle of everyday life.
Snorkel or scuba dive to see vibrant marine life and coral reefs, or just take it slow and relax on the beach. With each passing moment, you'll be finding more items to add to your summer bucket list.
8. Get Your Kicks on Route 66
Route 66 is one of the iconic bucket list items that captures the spirit of freedom. Starting in Chicago and stretching to LA, Route 66 is a journey through time and culture, giving you a glimpse of the heart of America. Along the way, you'll stop at charming small towns and quirky roadside attractions. As you tick off the miles and States, you'll get a better understanding of our nation and its rich culture. It's not hard to see why so many people have it on their bucket list adventures.
9. Stargaze and wonder what's out there
Experiencing the awe-inspiring night sky by stargazing deserves a spot at the top of your bucket list. Luckily, America has a ton of dark skies where you can see the stars. Big Bend National Park in Texas or Death Valley National Park in California offer the chance to see them in all their full glory. As the city lights fade away and the skies darken, you'll witness a sea of stars that light up the night sky. The Milky Way stretches far above anything you've seen before, leaving you humbled by the vastness of the cosmos.
10. Discover Iconic American Landmarks on your bucket list adventures
We saved one of the best bucket list ideas for last. America is home to countless iconic landmarks. From the National Mall to Mount Rushmore or the Gateway Arch, a handful of these need to be on your bucket list.
Visiting historical and cultural sites helps you connect with our heritage. Whether you're standing at the feet of Lady Liberty or gazing up at Honest Abe at the Lincoln Memorial, you'll be checking items off your bucket list.
Let LifePoints help you cross these items off your bucket list
All of these ideas are fantastic to add to your bucket list, but travel costs can add up. That's where LifePoints comes in.
Once you've signed up, you'll be able to take our surveys. For each survey you complete, you get points, also called LifePoints. When you have enough LifePoints, you can exchange them for over a dozen free gift cards from our list of rewards.
You can get Starbucks gift cards, CVS gift cards or PayPal cash, among others. PayPal is like cash, and gift cards can buy you anything, like travel snacks or sunscreen. Whatever bucket list adventure you go on, LifePoints has a reward that can help.
For even more ways to save on your bucket list travel, check out our 7 Proven Tips on How to Plan Budget Travel guide.
To find out more, check out the How It Works page.

Sign up today or download the App, and can get 10 complimentary points to kick-start your earnings.
---