5 Things to Know about Our Online Surveys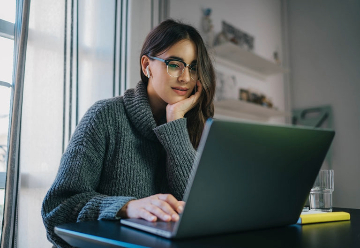 If you're interested in taking surveys but are yet to become one of our members, you've come to the right place. Here you'll learn about all the great benefits of becoming part of the LifePoints community. From earning PayPal to spend at your favourite retailers to making your opinion count, there are a lot of benefits to joining.
Keep reading to discover five things to know about LifePoints online surveys.
1. There are a ton of rewards available from some big brands
We're really proud of the great partnerships we have with retailers and brands around the country, from huge, global names like Amazon and PayPal, all the way to charities like the Special Olympics. It's thanks to these partnerships that we're able to offer amazing rewards to our members in return for completing surveys. You can find out more about our trusted partners on our Rewards and Gift Cards information page.
2. Your opinion is heard and makes a huge difference
Community is at the heart of what we do at LifePoints and your opinion is always valued the most. By completing online surveys and providing honest feedback on the products and services you use, you're helping to create a better experience for consumers around the globe. Data collected from our opinion surveys have helped to improve a wide range of products from essential items like car seats and airbags to important financial products like credit cards. Your answers really make a difference.
3. You earn money
With LifePoints, it's not just Gift Cards you can earn from taking our surveys. As a member of our community, rewards like money into your PayPal account PayPal are also an option. By taking surveys you can actually earn money in a few minutes.
For every online survey you complete as a member, you earn points (LPs) which can then be redeemed against gift cards, charitable donations, or money directly into your PayPal account. To learn more, visit the How It Works page.
4. You can complete surveys anytime, anywhere
Whether you're sat at your desktop, browsing your tablet from your couch, or scrolling through your smartphone on the go, it's easy to complete our online surveys. And with our all-new App, you'll have access at your fingertips. Discover more about using the LifePoints App here .
5. The surveys are simple and easy to do
LifePoints is free to join, and you can start taking surveys and earning points straight away. You're free to complete as many or as few online surveys as you like with no minimum or maximum number needed, but the more you take the more you earn. If you want more information read the How it works section to find out more.
We value our community members above everything at LifePoints, so making sure you enjoy your time with us is key. Hopefully, hearing from a few of our members has got you raring to go! However, if you're still unsure and have some questions that need answering, be sure to stop by the terms and conditions page.
Now you have all your questions answered it's time to start earning with LifePoints. You can even get 10 complimentary rewards points just for signing up. Or start earning today straight from your mobile with the LifePoints App.
---