Your complete guide to perfect staycations with LifePoints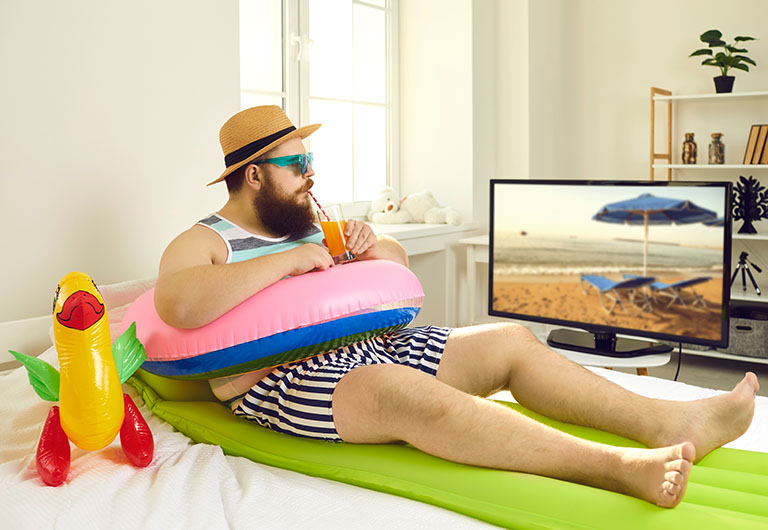 In today's fast-paced world, we often overlook the hidden gems in our communities. Staycations have become a popular new trend, with 63% of Americans taking staycations. They allow you to relax, do the things you truly enjoy and embrace hidden gems around you.
A staycation requires good planning, but with a good plan, you'll make unforgettable memories without the full cost of a vacation. In this comprehensive guide, you'll learn all the essential steps to planning the perfect staycation. With these tips at hand, you'll be set to enjoy a rejuvenating staycation that will leave you feeling refreshed and inspired.
Know what you want out of your staycation
Before you plan your staycation, decide what you want to get out of it. Is it quality time with loved ones, some self-care or enjoying food spots you haven't tried before?
The idea of exploring your local community's culture might spark your curiosity. If so, you could delve into the rich tapestry of local neighborhoods and immerse yourself in the vibrant culture that surrounds you.
Deciding on goals for your staycation will help you choose good activities and make the most of your precious time. Talk about this with family or housemates so everyone can be on the same page and get what they want out of the time.
Create a staycation Itinerary
An itinerary will help you make the most of your staycation. Research local attractions, events, and activities that fit the goals you made in Step 2. You might even unearth things you didn't know were just minutes from your home.
When making your itinerary, make sure you leave some time for relaxation. Balancing outings and activities with downtime will give you a well-rounded and fun staycation.
Set a staycation budget
Setting a budget is important for Staycations and lets you do everything you want without breaking the bank. Decide how much you can spend and allocate money on food, activities and hotels if you're getting one. When you have a budget, you won't overspend and will make smarter decisions.
To help your budget, research local prices, deals, and discounts. When you set your budget, don't forget to put yourself at the center, you want the staycation to be as enjoyable as possible. Although focused on traditional travel, our 7 Tips to Save on Travel Guide has lots of valuable tips that can also help with staycations.
Create a serene staycation space
You need your home to feel special on your staycation. This is why transforming your home into a serene space is the first step to planning a staycation. Start by decluttering and organizing your home, removing distractions or unfinished tasks.
You can enhance your environment further by using soothing scents and soft lighting. Finally, break out your most luxurious bedding for a finishing touch. By changing the atmosphere, your space will feel more special and help you unwind.
Up your staycation budget with LifePoints
If you're looking to up your budget for your staycation, LifePoints is here to help you make it happen. LifePoints lets you earn fantastic rewards for sharing your opinions on major brands. By taking online surveys, you can earn points, also called LifePoints. You can then swap your LifePoints for rewards like Lowe's gift cards, Apple gift cards or a Special Olympics donation.
It's an easy and fun way to boost your staycation budget while expressing your thoughts and influencing real products. So, why not turn those spare minutes in your day into valuable rewards with LifePoints?
Sign up today and watch your staycation budget soar to new heights.
Your staycation questions answered
What is a staycation?
A staycation is when you take a trip to your local area. You do all the same things would do on vacation, but in your own area, like museums, restaurants and shopping.
What to do on a staycation
Here are 10 ideas for things to do on a staycation:
Explore local attractions like museums or historical sites
Take a day to relax and pamper yourself
Plan out a food tour
Enjoy nature with hikes or a bike ride
Plan a movie marathon or game night
Take a workshop or class like, cooking or dancing
Explore surrounding areas with a trip
Host your friends or family
Volunteer to give back to the community
Chill at home and indulge in your favorite treats
What is a staycation hotel?
A staycation hotel is a hotel that offers special deals for people looking to have a trip in their home area. Not every hotel will offer staycation deals, but with some research, you can find them. You can also consider regular hotel deals and use them on your staycation.
Where can I go for a staycation?
You can go anywhere you consider local for your staycation. This will depend on where you live and what activities are close by, but there are no strict rules.
For example, if you live in Brooklyn, you could staycation in Manhattan. If you live in Denver, you could staycation in a local mountain town. Or you can stay home and relax without paying for a hotel or Airbnb.
What to pack for a staycation
Here are some staples to pack for your staycation:
Clothes
Entertainment like books or electronic
Toiletries
Snacks and drinks
Important documents like IDs or insurance cards
Anything else you need for your specific activities
Now you're set for some well-earned time off
Staycations offer a wonderful opportunity to discover local treasures and create lasting memories. All without the need for extensive, and expensive, travel. By following the tips on this page, you can have a fulfilling and well-balanced experience. And remember, if you're looking to boost your staycation budget, joining LifePoints is the way to do it. Happy staycationing!
Sign up to LifePoints to help you maximize your staycation
When you take surveys with LifePoints you get paid. For every survey you complete, you get points, also known as LifePoints. When you have enough LifePoints you can choose rewards for your efforts. You can get Target gift cards, Macy's gift cards or a PayPal balance transfer. PayPal can be used like cash, and gift cards can buy you anything. This makes them perfect for planning a staycation. To find out more, check out the How It Works page.
 
Sign up today or download the app and you can get 10 free points to kick-start your earnings.
---