How To Plan the Best College Move-in Experience with LifePoints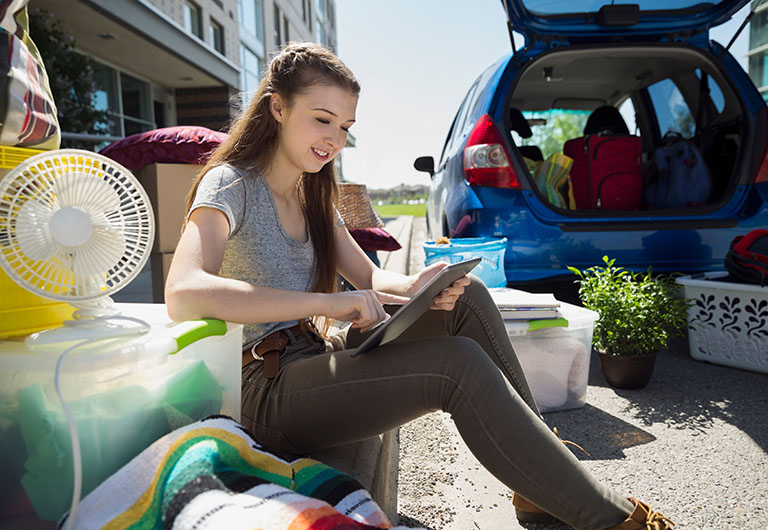 Moving into college is an exciting milestone filled with new friends, skills, and cherished memories. But it can also bring about uncertainties and questions. Luckily, with a few simple tips, you can have a smooth transition to college life and make the most of your campus experience from day one.
Check out the important checklist for moving in and get helpful advice to address any concerns you may have. You'll also discover how you can make money by sharing your opinions with LifePoints. Armed with this knowledge, you'll be able to buy the things you need for your dorm or treat yourself to something special as you start the next chapter of your life.
Your Comprehensive College Packing Checklist for all your dorm necessities:
With these dorm necessities, you'll have your new space ready to go from day one:
Bedding: Sheets, pillowcases, blankets, and a comforter for a comfortable night's sleep.
Bathroom essentials: Towels, toiletries, and a shower caddy to stay fresh on campus.
Clothes: Everyday outfits, underwear, socks, and shoes for all occasions.
Kitchen supplies: Plates, bowls, utensils, glasses, and basic cooking tools for dorm room meals.
School supplies: Notebooks, pens, pencils, and folders to fulfill your study needs.
Electronics: Laptops, chargers, phones, headphones, and power strips play an essential role in college life.
Storage organizers: Hangers, storage bins, and under-bed containers to maximize your limited space.
Cleaning supplies: Disinfectant wipes, a broom, a duster, and other items for a clean and comfortable living environment.
Important documents: IDs, insurance information, and medical records for any official purposes.
Medication: Any prescriptions to keep you fit and healthy.
Anything else unique to you: Everyone is different, so if there is something you can't live without, add it here.
Although not essential, these items can make your dorm feel more like home:
Decorative items: Posters, photos, and personal touches to create a cozy atmosphere.
Entertainment: Books, board games, video games, or any other activities to keep you entertained.
Desk supplies: A desk lamp, organizers, and a whiteboard to optimize your study environment.
Exercise equipment: Yoga mats, resistance bands, or small exercise tools for staying active, especially if you don't have access to a gym.
Sentimental items: Mementos, photos, or cherished possessions to bring comfort and familiarity.
Earn extra cash to make the transition easier
Moving costs can add up quicker than you think. From coat hangers to shower caddies, there's a lot to buy. That's where LifePoints steps in. With LifePoints, you can earn free Amazon gift cards or PayPal cash for sharing and taking surveys. Sign up, take some surveys and get rewarded. This is one of the easiest and best ways to buy those extra touches and make your dorm room a place you love to call home.
Your opinion matters and makes an impact, when you take surveys. With LifePoints, you can share your opinion on the world's biggest brands and shape their futures. When you answer surveys, it directly reaches important decision-makers at global brands. So you might answer a question on an everyday product and see that product change to meet your preferences in the future.
7 more tips to prepare for a successful college move-in and beyond
Be kind to yourself and feel proud of what you've accomplished
Be proud that you've made it to college! It's a great achievement and it's normal to feel homesick or overwhelmed. Colleges have some great resources available, if you face challenges or have questions. Whether it's academic support, counseling or clubs, universities provide a wide range of resources to help you thrive. Taking advantage of these services will help you settle in and get the most out of your 4 years on campus.
Connect with future roommates
A lot of the time, you'll be paired with a random roommate. If possible, connect with them before moving in. Decide who's bringing what to avoid duplicates and get to know their hobbies. This can help you get to know them before you move in and avoid some awkwardness.
Explore your new surroundings
You'll be in a new place, so taking time to learn the campus is important. Look for nearby grocery stores, restaurants and other amenities to get to know know the area. Another great tip is to find all the buildings where your classes are before the first day of classes. This way, you won't get lost and reduce stress on your 1st day.
Plan your move-in day logistics in advance
Planning the logistics of the move-in day can help the day go smoothly and reduce stress. Check with your dorm for move-in instructions like how many cars you can bring or where you need to go. Knowing the logistics ahead of time can help you plan a more stress-free move-in day.
Stay organized during move-in
On move-in day there, will be a lot to keep track of. You'll need to manage documents, keys, and contact information on top of all the emotions that come with the day. Keeping all of these organized will make everything easier for you. One option to organize your stuff is to bring a designated folder to store paperwork, college ID and any other important info.
Know when you can get packages delivered
Getting stuff mailed to your dorm is a great idea as you can save space in your car and have less to deal with on the day. If you do get stuff delivered make sure you ask your building when they accept packages as it often won't be until a certain date. This should be on your college's website, but if not reach out to your dorm.
Have a plan in place if you're moving in on a different day than everyone else
People move in at different times for a lot of reasons- vacations, weddings, family events or work commitments, among others. If you aren't moving in on the scheduled move-in date, it's important to have a plan in place. This happens all the time so your dorm will be used to it. Reach out to them and see what people do and move in at your leisure.
Now you're ready to start your academic journey
When you're moving away to college, a little preparation goes a long way. Create a checklist, follow the general tips, earn LifePoints rewards and you'll hit the ground running when you get to campus.
LifePoints can help you past move-in and all the way to when you graduate too. Whether you want Starbucks as a sophomore, notebooks as a junior, or food from Target as a senior, LifePoints has so many rewards to choose from. LifePoints will quickly become a trusted companion of yours.
LifePoints has paid its members more than $23 million in the last year. To get in on that action and earn some of those rewards, sign up here. If an app is more your style, we have one available for both Android and IOS.
---